How to play Perfect by Ed Sheeran on the guitar
Dozens of YouTubers want to teach you how to play Ed Sheeran. But who is the best?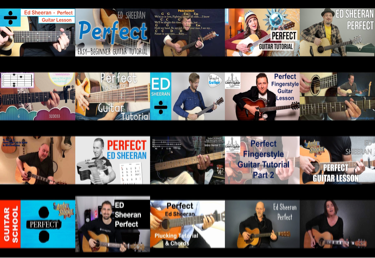 Sheeran's Best Song?
"The first song I finished for the album was song called 'Perfect,' and that, I think, is my best song that I've written," Sheeran told MTV in March of 2017.
We sifted through thousands of videos on YouTube to narrow it down to dozens of finalists. Here are the best ones we could find:
Marty Schwartz
"Hey, what's up guys," it's Marty Schwartz. Marty has been teaching guitar online for over a decade and it shows.
A relaxed teaching style, and competent playing make him a joy to watch, and he's even got a neat trick to tuck his pick into the palm of his hand while he plucks the verse with his fingers, so it's ready to pop out for the more intense chorus.
GuitarGoddess
"If you have a special someone in your life that you want to play this for, this tutorial is going to help you out," YouTube user Guitar Goddess says. As an added bonus, she teaches two versions of the song—one that's close to how Ed Sheeran plays Perfect on the guitar, and one that's easy for beginners to learn how to play.
Nail Guitar
A smiling Englishman in camoflage pants (trousers?), Andy Collins from Nail Guitar walks through a simplified version of Perfect.
A nice touch—he posts a link to a downloadable chord chart.
GuitarLessons365
With a dizzying array of camera angles, Carl Brown from GuitarLessons365 walks through a lovely interpretation of Sheeran's song, with some nice riffs to round out the song for intermediate players.
Let'sPlayGuitar!
Millions of people tune in to Let'sPlayGuitar! for fingerstyle walkthroughs—with just a single camera pointed at his fretboard, these are definitely in the "dude stands in front of a sheet" genre, but with a calm, gentle style and confident, gorgeous guitar playing, these videos succeed in spite of it.
Be sure to check out the basic lesson with chords, as well as more advanced (and beautiful) fingerstyle version.