4 Easy Bruce Springsteen songs to play on the guitar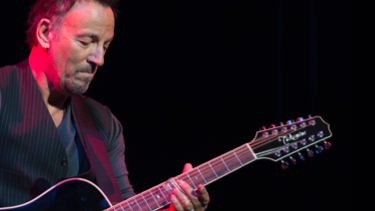 There's nobody like the boss.
And, lucky for beginning guitar players everywhere, a lot of his songs are easy to play.
Here are four great teachers to help you what are the best Bruce Springsteen songs to learn on the guitar.
Glory Days
Jump right into Glory Days with Sam Lyons.
With chords and lyrics, and not a bad voice, either.
Dancing in the Dark
Sit in as Aussie teacher Marie Wilson shows a student how to play Dancing in The Dark

Remember...
You can always look up any chords you don't know in ChordBank.
Tap here
to check it out on the app store.
My Hometown
Take it down a notch with PartyMarty and learn My Hometown.
Four chords is all you need: G, C, D, and Em.
I'm on Fire
Another great performance from Rob Swift—learn I'm on Fire, from 1985's "Born in the U.S.A."