More practice with D and A
In this lesson, let's get a little more practice playing the D chord and the A chord together in rhythm.
What You'll Learn
How to strum with eighth notes, hitting the strings both as you go down, and up.
1

How to strum eighth notes

Notice how Anna moves her forearm up and down in time, and doesn't pause when she changes chords.

Now it's your turn.
2

On your own

Take out your phone, and set a timer for four minutes.
Put your fingers on the strings in the D major shape.
Strum, slowly, using eighth notes.
Once you've played for two measures, or 16 strums, switch to the A major chord.
Repeat, moving back to the D major shape.
Continue, going back and forth, until your timer goes off.
This is going to be difficult, but the most important thing is to keep your rhythm nice and smooth, especially when you're switching chords.
Go as slow as you need to to keep the rhythm steady.
Next Lesson
In our next lesson, we'll add a third chord to the two that you've been practicing.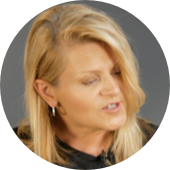 Anna Freitas holds a B.A. from Berklee College of Music 
and performs throughout New England as a guitarist and vocalist. She continues to teach students, both in-person
 and online via Skype.