How to Tune Your Guitar
Before we get started, let's make sure we know the parts of our guitar, and how to get in tune.
What you'll learn
The names of the parts of your guitar
How to tune, even if you don't have a tuner.
1

About your guitar

Before we get started, let's talk about the three parts of your guitar.

We have:
the head, which contains the tuning pegs.
the neck, which contains the frets, which allow you to change the pitch of the strings with the fingers of your left hand.
and the body, which has the sound-hole. This is the part of the guitar where the sound will actually be coming from
If you turn the tuning pegs in one direction or another, you're going to make the note either higher or lower.
Turning each of these tuners is how you change the pitches of your strings to make them in tune.
2

How to Tune

In this video, we're going to learn a method to tune your guitar by ear.

This is commonly called the "fifth fret method", because you're using the fifth fret on each string to tune the guitar to itself.
3

On Your Own
Take out your phone. Set the timer for 5:00.
Randomly change the tuning of the five thinnest strings.
Can you use the fifth-fret method to get your guitar back in tune?
Can you remember which of your six strings is different and uses the fourth fret instead?
Next Lesson
In our next lesson, we'll learn our first chord, and learn a technique to memorize chord shapes quickly, without hurting our fingers.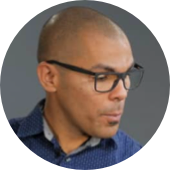 Andrés Wilson holds a B.M. from the Berklee College of Music, a M.A. in literature from Columbia University, and a PhD in Comparative Literature from the University of Massachusetts, Amherst.