HOW TO PLAY
The D Chord
One of the first chords beginners should learn, if not the first chord, is the D chord.
It only uses three fingers, and you place those fingers in a comfortable spot, on the first three strings (remember, we count our strings from the thinnest to the thickest).
Here's how they fall on the fretboard:
From your perspective, as you look down at the fretboard, a D chord looks like this:
STEP BY STEP
Put your first finger on the second fret of the third string.
Put your second finger on the second fret of the first string.
Put your third finger on the third fret of the second string.
Strum only the highest four strings.
We host free, group guitar lessons for beginners on ZOOM and Facebook Live, once every two weeks.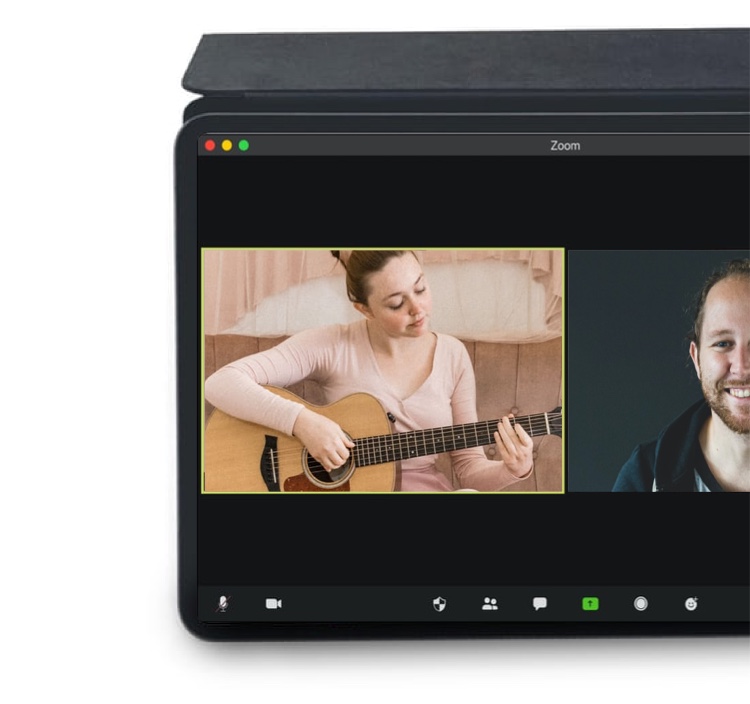 Space is limited. Join us, bring your guitar, and we'll try to answer your biggest guitar questions!
THEORY
D Major is a major triad, built up of the root, the major third, and the perfect fifth:
Here is how those notes are actually distributed across your fretboard
Here's how you might play the same chord on the piano:
HOW IT'S USED
The most common progression you'll likely see with D Major is going from D, to G, to A, or I, IV, V.
Adding in the minor six chord (Bm), you have the classic `I-V-iv-IV` pattern:
SEE ALSO
Other common chords in the key of D Major:
EXPLORE CHORDBANK